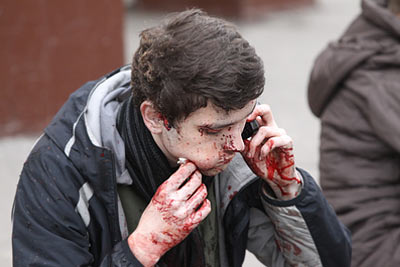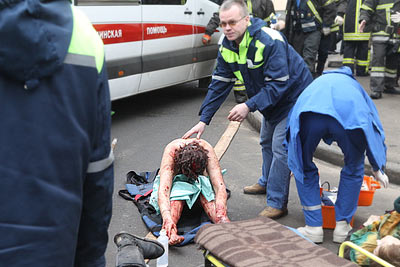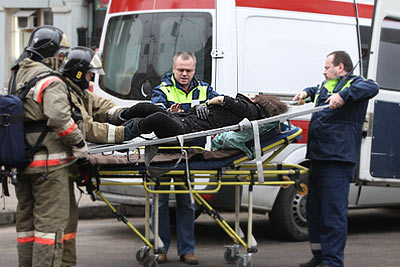 Two explosions on Moscow's underground network killed at least 35 and injured 26 during rush hour on Monday, raising fears of a new terrorism campaign
Officials said the explosions were likely to have been caused by bombs detonated by mobile telephones. At least 23 people were killed in the first explosion which tore through the second carriage of a train at Lubyanka Metro station at 07:50am, injuring at least 14, while 12 people died and a similar number were injured in a blast at Park Kulturi Metro station at 08:40, officials said
Vladimir Markin, a spokesman for the prosecutor's office, said the police were investigating the incidents as terrorism.
Around 25 ambulances were parked at the scene at Park Kulturi Metro station.
Commuters on other trains said transport stopped with no explanation for nearly half an hour after the first explosion.
The Moscow metro been targeted by terrorists in the past two decades, and Monday's attacks could presage a worsening of the civil war in Russia's north Caucasus. Previous attacks have been blamed on Chechen militants.
The last suspected large scale terrorist attack in Russia was November 27 last year, when the luxury train the Nevsky Express was derailed by an explosion enroute from Moscow to St Petersburg, killing 27.
The most recent attacks on the Moscow metro were in February 2004, when a bomb blew up a metro carriage near Avtozavodskaya metro station, killing 40 and injuring 134. A previously unknown Chechen group claimed responsibility.
Also in August 2004, a Chechen militant blew herself up outside Rizhskaya metro station, killing 10.
Lubyanka metro station, target of the first of Monday's attacks, is next to the headquarters of the Federal Security Services, the successor to the KGB.
Copyright The Financial Times Limited 2010. You may share using our article tools. Please don't cut articles from FT.com and redistribute by email or post to the web.